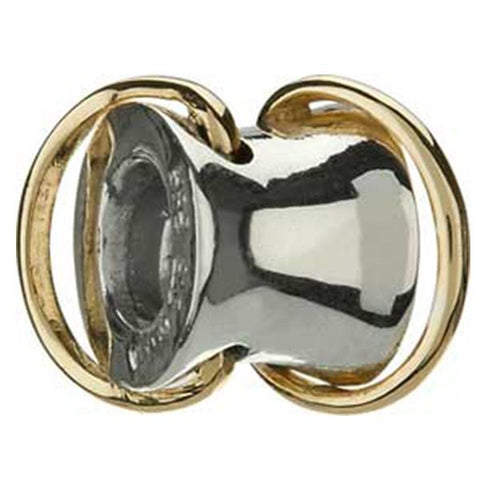 Silver & 14K Gold Inspired Bead - Chamilia
Retired on 1/1/12! We highly recommend you don't wait to purchase this awesome piece! Two-Tone Chamilia cylinder shaped bead. This Sterling Silver bead features two Gold rings attached at either end of this bead.

All Chamilia bead have threads that fit all major and most popular European bead bracelets. Chamilia uses the finest quality sterling silver and 14K gold in all of their beads. Each handmade bead is stamped with the industry standard 925 (for sterling silver) or 14K (14 Karat Gold) ensuring each piece contains at least 925 silver and/or all 14K gold. Without a marking the metal content for the bead is not pure. Beads are solid through and through with no plating whatsoever. The silver on all Chamilia silver beads are treated to prevent tarnishing but sometimes needs a touch up. To do so, we recommend a silver polishing cloth. Do not use silver polish or dips as it removes the oxidization off the beads and bracelets. Additionally, chemicals such as chlorine from hot tubs will change the make-up and look of the silver. These European beads are interchangeable; you can mix and match them to create your own one of a kind jewelry to match your personal taste.

Most pictures are manufacturers stock photos; those used on the Chamilia website, and are representative of the item. All items are individually made and have unique variations, especially in the stone, Swarovski, and Murano Glass categories. Whenever possilble, you will receive item in its original bag.