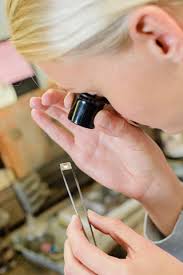 Selling Jewelry, Gold or Silver
We invite greater Dayton (Ohio) or surrounding area residents to visit our store for a free evaluation. If you are in the area and are unable to physically come to our store, please call us at 937-436-3003 for arrangements to view your collection. Out of town residents please contact us with a list of items you are interested in selling. We will then contact you will further information.
Please keep in mind:
Value can change: The value of an item is dependent upon many things, including the condition, and trends in the market. This is why the answer to the question "What's it worth?" is so often "It depends."
Note the day: Values change over time according to market forces, so the current value of the item could be higher, lower, or the same as when our expert evaluates it.
We don't buy at retail prices: Retail prices are different from wholesale prices and though there are no hard and fast rules, an offer is for cash payment on the spot. 
This is NOT an appraisal: Technically, an "appraisal" is a legal document, generally for insurance or court purposes, and paid for by the owner of the item. 
The opinion of value: The verbal approximations of value given are an opinion formed from years of knowledge, market trends, and other factors such as condition. Although our valuations are based on experience, opinions can, and sometimes do, vary among experts.
Affiliations: Our jeweler, Shirley Fritz, affiliations include: Approved Appraiser in Probate Court for the State of Ohio; Jewelers of America Association Senior Management Professional Jeweler; Letters of Completion from the Gemological Institute of America in Diamond Grading, Gem Identification, Separating Sophisticated Synthetics, Enhanced Gemstones, Pearl Quality, and Detecting Synthetic Diamonds; Past Instructor in Antique and Period Jewelry with Kettering Adult School.