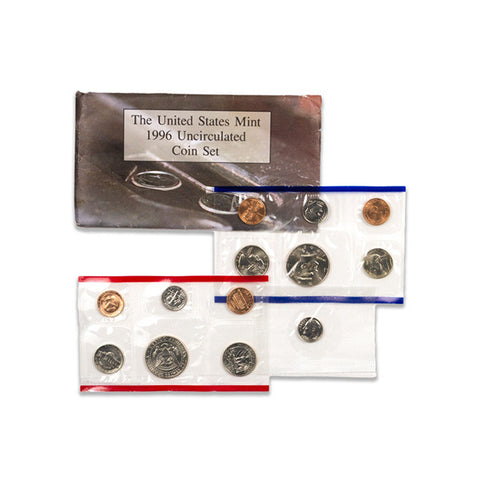 1996 Uncirculated Coin Set
2 Memorial one-cents, 2 Jefferson nickels, 2 Roosevelt dimes, 2 Washington quarters, 2 Kennedy half dollars. Denver and Philadelphia mint.
Uncirculated mint sets are coins specially packaged by the United States government for sale to collectors. These sets contain uncirculated specimens of each year's coins for every denomination issued from each mint. Unlike Proof sets, the coins contained in uncirculated sets are not minted with any special quality considerations. They are the normal coins intended for circulation. Coins that are struck as Proof only issue are not included.
Beginning in 2005 the US Mint started minting Uncirculated Mint Sets with a satin finish for the look and to provide consistency. It also helps collectors differentiate between Uncirculated Coins and US Mint Uncirculated Coin Sets. For earlier mint sets please contact our coin department. Will be shipped in U.S. mint issue packaging. Packaging not guaranteed in mint condition. We do not recommend removing coins from the original packaging as their value will decrease slightly. The coins pictured are just an example of the product, and are not the coins you will receive.